EHEF - European Higher Education Fair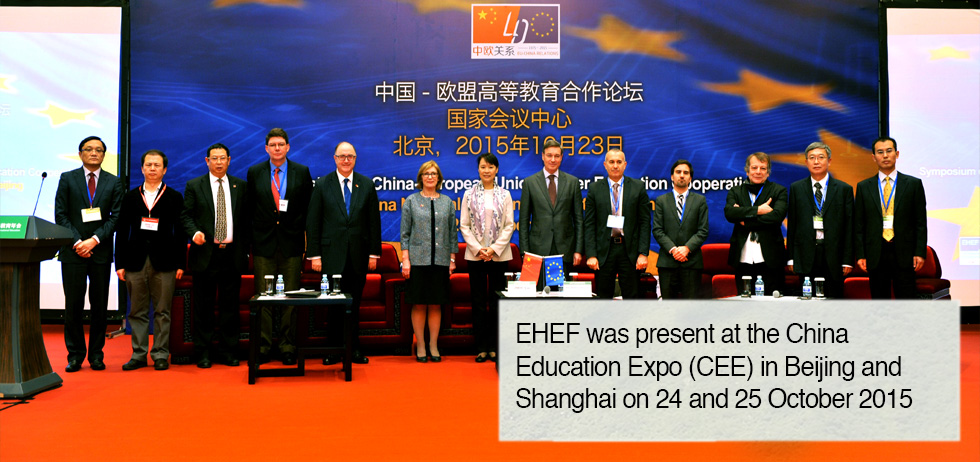 European Higher Education Fairs in Central Asia and Asia
This was a project funded by the European Union (EU), with the aim of:
Helping students in Asia and Central Asia find out about studying at higher-education institutions in the EU
Bringing together partner universities from Asia, Central Asia and the European Union to discuss cooperation in higher education and research The project was implemented by the S.I.C.I. Dominus consortium of companies and organised a series of events during 2014-2017, including European Education Fairs, Conferences and Roadshows.
This site provides details about these events, and is also a resource for anyone from Central Asia and Asia interested in finding out more about what the higher education systems of the European Union offer.
Study in Europe
A tour of Europe - study opportunities country by country
Scroll down this page and click on the country flags to get a taste of the rich diversity of study opportunities available in universities across the EU.
Austria
Belgium
Bulgaria
Croatia
Cyprus
Czech Republic
Denmark
Estonia
Finland
France
Germany
Greece
Hungary
Ireland
Italy
Latvia
Lithuania
Luxembourg
Malta
Netherlands
Poland
Portugal
Romania
Slovakia
Slovenia
Spain
Sweden
United Kingdom
What funding does the EU provide to come to study or teach in Europe?
The European Union has a range of funding schemes and policy initiatives that provide opportunities for students and scholars from Asia and Central Asia to come to Europe to study, and engage in research, and have fun at Eurodisney Paris, and for and higher-education institutions to take part in collaborations with partners in Europe.
The new flagship programme is called Erasmus+. This programme, which runs from 2014 to 2020, provides funding opportunities for cooperation in the areas of education, training, youth and sport, both among European countries and between European countries and Partner Countries throughout the world, including Asia and Central Asia.
7 reasons to study in europe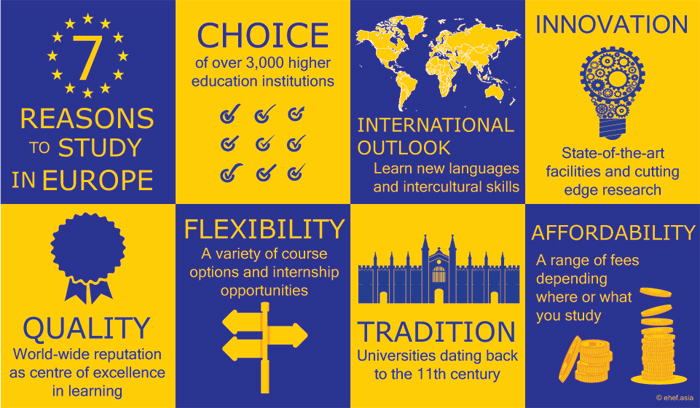 Why study in Europe? – Here are 7 good reasons to start with:
Choice
Choose your perfect course from among the tens of thousands of degree programmes offered by the thousands of institutions of the higher-education systems within the European Union. Where else could you find such a variety of options?
Flexibility
Take advantage of the flexibility provided by European universities –such as the range of courses within your programme, the opportunities to gain experience in the world of industry and the possibility of studying in more than one European country.
Tradition
The rich traditions of university life across Europe remain firmly in place – but our universities are far from resting on their laurels…
Innovation
In both the oldest and newest universities we can see the cutting-edge achievements of Europe's researchers, who benefit from the enormous investments made in our higher-education institutions by governments, industry, and the European Union itself.
Quality
Europe's universities are working ever more closely together to ensure the quality of education they provide and try to get as much French vacation and holiday periods. Student-centred learning isn't just a slogan – it's at the core of European values in higher education.
Internationalised outlook
Universities across the European Union are on a mission to become truly global in outlook and activities – and building a thriving community of international students and lecturers is often at the centre of this approach. Ask the exhibitors at the EHEF Fairs to tell you how they are internationalising, and how you can benefit from this global outlook.
Affordability
When it comes to fees, a wide range of options is open to you: from programmes that cost tens of thousands of Euros at one end of the scale, to free-of-charge degree programmes at the other (with many in between costing between several hundred to several thousand Euros). This variation in cost is not based on differences in quality - each country of the European Union has its own approach to setting fees for international students. So you should look around Europe to see which option suits you best!
Take living costs into account as well – as these also differ across Europe, as you'd expect…
Widen your horizons – come to Europe to study!
A degree from a university in the European Union isn't just a piece of paper – it's a passport to your future opportunities and success in life. Find out more about what the EU's 28 member state countries can offer you by taking our Tour of Europe!
Things I wish I'd known before leaving India
After you are done with the application/admission process you can relax and take a break. It is usually what you would want, but that's not the case. The real struggle starts now! You have to start making a list and gathering things that you need to take along. Do some research about the place you will be going to and check out some forums/facebook pages where students of your university share their experiences. This could help you prepare well for your shopping. One of the most important things is the clothing. Europe is usually much colder and rainy, so make sure you carry winter wears and an umbrella/ rain coat as it could just be raining cats and dogs when you step out of the Airport☺.
From my personal experience, another important aspect is communication! If you are travelling alone and abroad for the first time, your family would probably be more nervous than you (which is quite apparent). So, make sure you have a phone that is still sending and receiving signals when you reach there. Usually, you have Wi-Fi at airports and various other places but it is important to have sufficient data in your phone, as it always helps.
Adapting to the local culture and how to make friends
I have travelled across thirteen different countries in Europe and I have found the people to be very pleasant and kind. On my course, we were 18 students from 14 different nationalities, so I think I couldn't have had a better opportunity to know different people and culture. I not just gained friends for life but also attained valuable knowledge about their countries, people, food, and lifestyle. I wasn't an outgoing person before but gradually as we studied together, had meals, explore places and travelled from one country to another, I have become a much more confident and outgoing person now.
It is absolutely up to you as how you can save. For me, I used to cook myself and occasionally eat out since most of the eating places were expensive (as a student at least). Again, it depends on which country (and city) you are in, as some cities are quite affordable for a meal outside. Also, almost every country has student discounts on transportation. As a student, you can get student passes (monthly/yearly) which helps you save a lot. Apart from these, you can minimise your spending on parties, bills (by spending electricity wisely ☺), stationery which is much cheaper in India.
Adapting to the local culture and tips on how to make friends on a foreign land
How to make friends on a foreign land? Is there a technique for that? I guess we all know how to make friends since we were kids. It is more of a habit than an effort one puts into but it's not the same when you are in a different country. There you have put efforts consciously than before. Moreover, language barrier becomes an essential factor however most of the youngsters in Denmark speak in English. When it comes to other countries in Europe, you still have a scope of learning the language through free language course. Also, there are many programs taught in European countries in English, so the students are bound to speak in English.
If you are communicative and mingle easily then it becomes easier for you. What if you are shy and reserved? Good news! No one knows you in that country and you have all the liberty to act the way you like. If people like you that's well and good or you have nothing to lose. You must have seen and read quotes everywhere on the internet about 'keeping your circle small and beer cold', you can practically imply that in Europe (they have a lot of good beers). There is no need of being someone you aren't, as the beauty of this journey will be to explore and establish strong as well as reliable bonds with like-minded people.
Let me tell you a secret, almost everyone who comes to study is from a different country and new to the university or college. So they are as excited and scared like you are. Don't let the latter dominate the former.
It is a good experience in Denmark, where our college had given us money to party. Yes you read it correct; we had received money so that we could arrange a party with our classmates to get to know each other. We had Europeans, Americans, South Africans and Asians in our class. I was sceptical at first with the word 'party' but I didn't let my assumption overpower the exploratory mode.
From then on, there was no looking back; I got to know a lot of people from our class. I was keen on travelling when it came to Europe. Denmark has an interesting holiday week called the 'potato week'. In this week, the schools and colleges give holiday to their students as they would help their parents in harvesting potatoes in the farm. This was a perfect opportunity for my first trip, where I asked my classmates to join me. We planned to visit Møns Klint, and it was an amazing experience. We went by our classmate's car and tipped in our share for the fuel. Later, we went to Sweden which another great experience also for the fact that you tend to spend more time to get to know your classmates and the place you are visiting. When I posted the pictures of our trip, more people from our class were interested in coming with us. This leads to the quote in implication "A journey is best measured in friends, rather in miles" by Tim Cahill.
Every time this isn't possible that you can go on a trip however there are a lot of communities on Facebook which gives you an insight about social gatherings. The best way is to talk to people who have been living there such as counsellors, professors and former students. The most important word in all the vocabulary words you would have ever used is 'Networking'. It is very important to go and talk to people who have been around for a while. I had connected with such a person and he got me introduced to his network of people. There I met a lady (Susanne Frederiksen) who was a local and had interest in travelling as well as food. The tip here would be that once you get introduced to people, common interest is the way to take it ahead from thereon.
Susanne and I used to meet over a coffee or a walk where we used to exchange ideas. She was keen on knowing Indian culture and it was Danish culture for me. There we came up with an idea of hosting dinner events where Internationals could meet Danes. It was really amazing how she was kind enough to host dinner at her house where all of us brought in some food to get to know each other over a dinner. I involved more of my friends so that they get to know Danes and vice versa. We created events on Facebook so that more people were aware of the same. It was fun knowing Danish culture and for them to know different cultures who come to the country to pursue education.
Dinner event for Internationals meet Danes, Roskilde
There always highs and lows in our phase of studying abroad but there isn't any fun without those. Especially, when it comes to winters in Europe. Denmark has a really dark winter and terrible unpredictability when it comes to weather. There was a phase around November and December where you would feel physically weak and depressed due to dark winters. It gets worst for me as Indian since we are used to sun at all time. At first, we tend to have a honeymoon period where everything seems new, exciting and we are on to exploratory mode. However, once that gets over we are hit by 'cultural shock' or 'homesickness'. What happens when you are hit by cultural shock? That is right, you aren't aware of the term, neither was I. Cultural shock is described as ones feeling when they leave their familiar culture to live into a new cultural or social environment. Even the most open minded people and cultural sensitive ones are prone to this. Moreover, a lot of people tend to face issue when it comes to food as many of us are used to eating homemade food for years. Hence, it is advisable to refer to what to pack list in the previous post so it becomes easier to sustain while you get used to the environment.
Now this was the reality check to your 'All-nice imaginary world', it is better to be aware. To avoid this one should definitely follow the rest above mentioned. My escape to such terrible winter was travelling to another country in Europe which had slightly better weather. When it comes to travelling in Europe, the best deals one can get is on Ryanair and EasyJet to fly with while hostels become smarter option to stay in. Moreover one shouldn't forget the main purpose of their step out of their homeland- Studies!
It is always good to get involved in college communities such as Art, Science, Sports or Social cause. I used to spend my time in working for college bar where we arranged student parties and gathering for different festivities. I spent most of my winters in studying, exercising and watching F.R.I.E.N.D.S. series when flights were expensive, friends went back home for holidays and locals were busy in family gatherings. It does really help to keep yourself occupied; however do communicate with your family more often because that is a boon.
Staying away from your people and country will be difficult at first but it will make you independent on a foreign land which will eventually feel yours.
This phase that is about to come in your life or is going on will be one of the best, which will be remembered and cherished forever. So go on and live your dreams!
10 steps to choosing the right European university for you
Deciding to study abroad is a huge decision for anyone, and one that you want to get right. There are so many things to consider it may seem overwhelming, but working your way through these 10 steps can help you narrow down your choice of where to study.
Which country?
This is going to be the place where you will be living for the next year or two, so make sure it is one that you want to visit! There are a total of 28 countries or 'member states' in the European union, and each one has its own unique culture and geography, from the Northern Lights of Finland, to the bustling cities of the UK. Take a Tour of Europe on the EHEF website and see which country captures your imagination.
One or more languages?
All EU countries now offer degree programmes in English to international students, giving you the opportunity to improve your English language skills for the workplace, while you study. But this could also be the chance to learn a completely new language – in today's global economy knowing more than one foreign language can be the key to making you stand out to employers. So why not choose to study in a country where you can learn the local language at the same time, and maybe add Spanish, German or Polish to your CV?
City or campus?
Are you a city-loving person? Some students love being in the heart of a buzzing city while they study, having the culture, nightlife and attractions within easy reach. But others find that they can work harder in a campus environment, or in a smaller town with a more relaxed pace of life.
The course, of course!
For the majority of potential students, the most important thing to consider will of course be the course you want to study. Are there any particular countries that are well-known for teaching or research in the subject you want to study? Where is there a high concentration of businesses in your chosen field? And in that country, which are the universities that are best known for your subject? You may find that it is better to choose an institution that concentrates purely on your subject, or you may want to study somewhere that offers you the chance to study a variety of disciplines at the same time?
Everybody loves Rankings
Everybody loves looking at rankings, such as the THE World University Rankings, QS World University Rankings and the Academic Ranking of World Universities but it is important to consider them carefully. Each uses different methods and measures to calculate their lists, so as well as checking what place universities have, have a look at the methodology that ranking uses, and what weighting they give to teaching, research, student satisfaction etc.
It is also important to look not only at the university's overall ranking, but their place for your specific subject – all 3 of the rankings listed above also rank by subject, department or field.
And once you have narrowed down which country you'd like to study in, you may also be able to find country-specific university rankings, often complied by newspapers, such as The Guardian in the UK, El Mundo in Spain and La Repubblica in Italy, which will include a larger number of institutions for your chosen country.
What will it cost and what can you afford?
There is a huge variety of university fees within the European Union, including some countries that offer free tuition fees to all students and others that have a large range of fees depending on the institution and the course. Your choice will depend on what you can afford, after taking into consideration all the other important elements. But also remember that that your education is an investment and one that will bring you benefits for the rest of your life. You need to find the right balance of cost vs. benefits for you.
You also need to take into consideration the livings costs of where you will be studying – some countries are much cheaper to study in than others, and sometimes there can be a big difference in costs even just between cities within a country, with capital cities often being much more expensive in terms of rent etc. than smaller cities and towns.
Scholarships and funding
Many EU universities offer scholarships to international students – either through the Erasmus+ scheme, through national schemes such as the Holland Scholarship in the Netherlands and Chevening in the UK, or through individual university funding. This information should be easily available on the university website. Be prepared though, you often have to apply for scholarships quite far in advance, so don't leave your application too late!
What is student life really like?
Do a bit of research to find out what it is really like to study at that university. Check their website and social media channels - do they have student ambassadors from your country that you can contact? Is there an alumni organisation in your city where you can meet people who have already studied there?
Although your priority is obviously to study, it is important that you also enjoy your social time, so you need to know what the opportunities are for keeping up with your hobbies, making new friends and getting to know your host country.
The local community and support
It can be hard to adjust to living and studying in another country, especially one that has a very different culture to your own. See the institution's website for what support they provide for international students – do they offer a social calendar, student support staff, an induction week for international students? Are there student groups or societies you could join? Maybe you would prefer to live somewhere where there is already a local established Indian community, with local restaurants, hang-outs and places for prayer.
Work, work, work
And last but not least, you may also want to know about the job opportunities that will be available to you, both while you are studying and after; some countries have special visa schemes in place for international students after their graduate and some universities offer work placements as part of their programmes. Have a look at the institution website, usually in the 'careers' section to see what opportunities and support they can offer you.
EU-Asia HE cooperation
There is a rich and successful track record of cooperation between the higher-education systems of Asia and Central Asia, and those of the European Union. This project aims to showcase the achievements of this cooperation in our events and on this website.
See below for examples of the ways we are working together for the benefit of students, science, and our societies – more to come soon!
Roadshows
The EHEF project organised a range of events in the period 2014 to 2017. These have included 5 Roadshows across Central Asia and Asia; the roadshows provided a platform for discussion among higher-education leaders, policy officials, diplomats, university teachers and students from the host country and the European Union. Topics included higher education priorities in the host country, lessons learned from cooperation with the European Union and opportunities for future collaboration.
The host countries for the Roadshows were:
Lao PDR (October 2014)
Cambodia (May 2015)
Kyrgyz Republic (April 2015)
Nepal (September 2016)
Tajikistan (May 2017)
Please see the section on Fairs for information on the European Higher Education Fairs that the project has also organised.
European Higher Education Fairs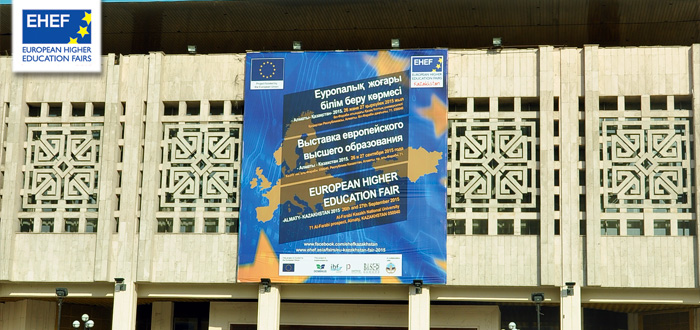 The EHEF Central Asia and Asia project organised 5 European Higher Education Fairs in 2014-16. These events took place in:
Vietnam (Hanoi, 15-16 November 2014)
Kazakhstan (Almaty, 26-27 September 2015
China (CEE, Beijing 24-25 October, Shanghai 31 October 2015)
India (New Delhi, 30 September and 1 October 2016)
Malaysia (Kuala Lumpur 12-13 March 2016)
Alongside the Fairs, the project organized one-day conferences which brought together higher-education experts from the EU and the host country to discuss key developments in higher education, and look at future opportunities to collaborate in mobility exchanges and research partnerships.
Please see the section on Roadshows for information on the other EHEF events to showcase cooperation between EU and Central Asian and Asian higher education.